CHRIS WARREN



CONSTRUCTION



CUSTOM HOME BUILDER/REMODELER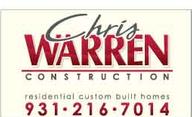 House Painting




Screen Porches




Kitchen Remodels




Insurance Claims



Do you have a project too big to handle? Or have no time to do the repairs needed to your home? Or maybe you want to sell your home and it needs a few repairs before you can put it on the market? Well, we can help.

Is your family growing and want to add a room or remodel an existing room. Well, we can help with that too.

We offer a variety of services to help you make your home a show place.

Fence Install




Deck Install




Deck Staining